World Bank
World Development Report 2017
Governance and the Law
Author:

World Ban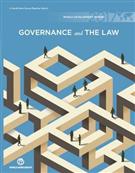 Add to Basket
The 'World Development Report 2017' addresses three fundamental questions, which are at the heart of development.
These questions are:
Why are carefully designed, sensible policies too often not adopted or implemented?

When they are, why do they often fail to generate development outcomes such as security, growth, and equity?

Why do some bad policies endure?
The distribution of power in society is partly determined by history. Yet, there is room for positive change. This Report reveals that governance can mitigate, even overcome, power asymmetries to bring about more effective policy interventions that achieve sustainable improvements in security, growth, and equity. This happens by shifting the incentives of those with power, reshaping their preferences in favour of good outcomes, and taking into account the interests of previously excluded participants.
These changes can come about through bargains among elites and greater citizen engagement, as well as by international actors supporting rules that strengthen coalitions for reform.
Find similar publications here: