World Bank
Going Universal
How 24 Developing Countries are Implementing Universal Health Coverage from the Bottom Up
Author:

World Bank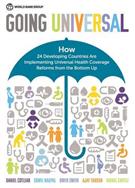 Add to Basket
'Going Universal: How 24 Developing Countries are Implementing Universal Health Coverage from the Bottom Up' is about 24 developing countries that have embarked on the journey towards universal health coverage (UHC) following a bottom-up approach, with a special focus on the poor and vulnerable, through a systematic data collection that provides practical insights to policymakers and practitioners.
Each of the UHC programs analysed in this book is seeking to overcome the legacy of inequality by tackling both a financing gap and a provision gap: the financing gap (or lower per capita spending on the poor) by spending additional resources in a pro-poor way; the provision gap (or underperformance of service delivery for the poor) by expanding supply and changing incentives in a variety of ways.
The prevailing view seems to indicate that UHC require not just more money, but also a focus on changing the rules of the game for spending health system resources. The book does not attempt to identify best practices, but rather aims to help policy makers understand the options they face, and help develop a new operational research agenda.
The main chapters are focused on providing a granular understanding of policy design, while the appendixes offer a systematic review of the literature attempting to evaluate UHC program impact on access to services, on financial protection, and on health outcomes.
Find similar publications here: