Narcotic Drugs
Crime Scene and Physical Evidence Awareness for Non-forensic Personnel
Author:

United Nations, United Nations Office on Drugs and Crime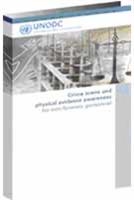 Add to Basket
The practical and much-needed manual was first initiated to fill a gap in the compendium of available tools for the judiciary and law enforcement agencies and is the result of a consultative process involving a number of reputable individuals, institutions and organisations, who contributed a variety of different perspectives to this cross-cutting issue, all grounded in the same basic principles common to all crime scenes. This essential guide aims at raising awareness of the importance of good practices in crime scene investigations and the nature and relevance of physical evidence.
Key features:
Keenly awaited new resource for all those involved in criminal justice and particularly those working in crime scenes

Globally applicable good practice guidelines

A pioneering new title from the United Nations.
Find similar publications here: