International Monetary Fund
Puzzles of Economic Growth
Directions in Development: Public Sector Governance
Author:

World Bank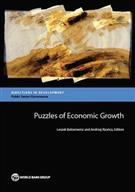 Add to Basket
The World Bank publication 'Puzzles of Economic Growth' examines how differences in economic growth arise. The report looks in detail at several questions concerning specific examples involving varied performance in seemingly similar countries around the globe.
Questions asked include:
Why is Australia so far ahead of New Zealand, in spite of the latter being held up as a paragon of free market reform?

How is it possible that Austria, with its persistently oversized state enterprise sector, has managed to (nearly) catch up with Switzerland?

Why, even before the 2010 earthquake, the Dominican Republic has been visited by several dozen times more tourists than Haiti, despite being situated on the same island?
This report strives to answer these and many other questions in order to address the main problem of how such differences arise.
Find similar publications here: