International Monetary Fund
Africa on the Move
Unlocking the Potential of Small Middle-Income States
Author:

International Monetary Fund (IMF)

Publisher:

IMF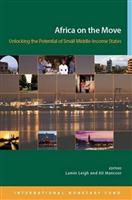 Add to Basket
This publication describes the reforms needed to move small middle-income countries in sub-Saharan Africa to advanced-economy status.
The result of intense discussions with public officials in the countries covered, the book blends rigorous theory, econometrics, and practitioners' insights to come up with practical recommendations for policymakers. It spans topics from macroeconomic vulnerability and reserve adequacy to labor market institutions and financial inclusion.
The publicaiton is a must-read for researchers interested in the economic issues facing developing countries in sub-Saharan Africa.
Find similar publications here: