International Monetary Fund
Income And Asset Disclosure: Case Study Illustrations
Author:

World Bank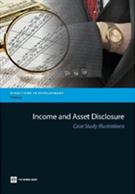 Add to Basket
Income and asset disclosure systems (IAD) are gaining prominence as a tool in the fight against corruption, and have the potential to support efforts in both prevention and enforcement. They are intended to prevent and help detect the use of public office for private gain, and to help build a climate of integrity in public administration by detecting and helping officials avoid potential conflicts of interest.
The potential for IAD systems to contribute to broader anticorruption efforts--such as national and international financial investigations and prosecutions, international asset recovery efforts, the prosecution of illicit enrichment, and the identification of politically exposed persons (PEPs) is as yet largely untapped.
This volume of case studies and its companion volume (a guide for policymakers and practitioners) will promote interest in these areas and point the way for policymakers and practitioners to establish the capacities and institutional linkages required for this potential to be realised. There are a wide variety of approaches in IAD system design and implementation and a wide variety of challenges faced by different systems. New and emerging IAD systems may face challenges associated with resource and capacity constraints, political resistance to implementation, a lack of public awareness, or limited civil society capacity to support anticorruption efforts. Many established systems may also face the need to revise the legal framework, institutional arrangements, or enforcement mechanisms once it becomes apparent that original assumptions do not deliver expected results or unanticipated challenges emerge.
This book and its companion volume identify the objectives, features, and mechanisms that can contribute to the effectiveness of an IAD system, and enhance its impact as a prevention and enforcement tool. It includes case studies of the IAD systems in Argentina; Croatia; Guatemala; Hong Kong SAR, China; Indonesia, Jordan, the Kyrgyz Republic; Mongolia; Rwanda; Slovenia; and the United States.
Find similar publications here: