FAO
The State of Food and Agriculture 2016
Climate Change, Agriculture and Food Security
Author:

Food and Agriculture Organization (FAO)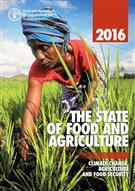 Add to Basket
Unless action is taken now to make agriculture more sustainable, productive and resilient, climate change impacts will seriously compromise food production in countries and regions that are already highly food-insecure.
The Paris Agreement, adopted in December 2015, represents a new beginning in the global effort to stabilize the climate before it is too late. It recognizes the importance of food security in the international response to climate change, as reflected by many countries' prominent focus on the agriculture sector in their planned contributions to adaptation and mitigation.
To help put those plans into action, this report identifies strategies, financing opportunities, and data and information needs. It also describes transformative policies and institutions that can overcome barriers to implementation.
The State of Food and Agriculture is produced annually. Each edition contains an overview of the current global agricultural situation, as well as more in-depth coverage of a topical theme.
Find similar publications here: