FAO
World Fertilizer Trends and Outlook to 2018
Author:

Food and Agriculture Organization (FAO)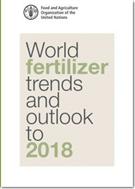 Add to Basket
The world economy has broadly strengthened over the past three years and is expected to continue this strengthening during 2014-2015. The world cereal production in 2014 is estimated to reach 2 498 000 000 tonnes, or 2.2 percent below that of the record production in 2013.
World demand for total fertiliser nutrients is estimated to grow at 1.8 percent per annum from 2014 to 2018. The demand for nitrogen, phosphate, and potash is forecast to grow annually by 1.4, 2.2, and 2.6 percent, respectively, during the period.
The global potential nitrogen balance (i.e. the difference between N potentially available for fertilisers and N fertiliser demand) as a percentage of N fertiliser demand is expected to steadily rise and reach 9.5 percent in 2018, that of phosphorous from 6.4 percent of total demand to 8.5 percent and that of potassium from 25 percent of total demand to 33 percent. This report gives all the latest trends and outlook for 2018.
Find similar publications here: