Council of Europe
Guide for the Preparation, Use and Quality Assurance of Blood Components
19th Edition
Author:

European Directorate for the Quality of Medicines and Healthcare (EDQM)

Publisher:

Council of Europe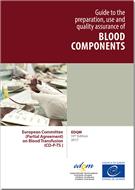 Add to Basket
The 'Guide to the Preparation, Use and Quality Assurance of Blood Components' contains recommendations for blood establishments on blood collection, blood components, technical procedures, transfusion practices and quality systems. It represents the basis for a large number of national regulations, as well as for the blood directives of the European Commission.
The use of blood components represents the only therapy available for many seriously ill patients who suffer from acute or chronic diseases.
To provide all those working in the field of transfusion medicine - from blood services to hospital departments to regulators - with a compendium of measures designed to ensure the safety, quality and efficacy of blood components, the Council of Europe has developed a guide as a technical annex to its Recommendation No. R (95) 15 on the preparation, use and quality assurance of blood components.
This is the 19th Edition of the Guide, compiled by leading European experts under the aegis of the European Committee (Partial Agreement) on Blood Transfusion (CD-P-TS). For matters dealing with the use of organs and tissues and cells, see the Council of Europe Guide to the quality and safety of organs for transplantation and Guide to the quality and safety of tissues and cells for human application, respectively.
Find similar publications here: