Council of Europe
Guide To The Quality And Safety Of Tissues And Cells For Human Application - 2nd Edition
Publisher:

Council of Europe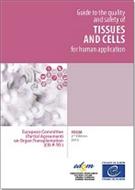 Add to Basket
Human tissues and cells are being used in an increasing variety of ways, and advances in transplantation therapy have unquestionable benefits. Human cells and tissues for human application can save lives or restore essential functions, but the use of human tissues and cells also raises questions of safety and quality.
This 2nd Edition of the Guide to the quality and safety of tissues and cells for human application contains information and guidance for all professionals involved in identifying potential donors, managing the process of donation after death, bone marrow and cord blood collection, tissue and cell processing and storage (including assisted reproductive technology), and in the auditing of establishments and organisations responsible for human application of tissues and cells.
The Guide is divided into two parts. Part A contains general requirements applicable to all establishments involved in the donation, procurement, testing, processing, preservation, storage and distribution of tissues and cells that are not manipulated exclusively. Part B contains specific guidelines and requirements for the different tissue and/or cell types.
Find similar publications here: