BCS
Working the Crowd
Social Media Marketing for Business
Author:

BCS, the Chartered Institute for IT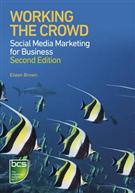 Add to Basket
Social media sites have become essential for effective marketing and sales. Engaging with sites such as Facebook, YouTube, and Twitter is now a key part of global business communications. 'Working the Crowd' is an excellent resource for anyone planning a social media strategy or individual campaign.
This edition includes:
Sites for different types of networking and engagement;

Blogs and microblogs;

Creating a social media brand and online presence;

Brand perception and reputation;

Legal issues;

Connecting to a global audience;

Job recruitment via social media;

How different age groups interact online;

Viral marketing;

Creating brand advocates and how they can broadcast the message; and

Future predictions.
This new edition covers the latest thinking, practices and technology.
Find similar publications here: