Volume 1: Fire Service Technology, Equipment and Media
Physics and Chemistry for Firefighters
Fire Service Manual – Volume 1: Fire Service Technology, Equipment and Media
Author:

HM Fire Service Inspectorate

Publisher:

TSO (The Stationery Office)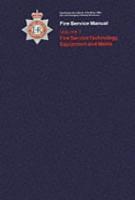 Add to Basket
In the first part of this book, some of the physical properties of matter will be discussed. Some materials are heavier than others, bulk for bulk. Some heat up more easily than others. these and other properties greatly affect the way that materials behave when they are involved in a fire.
In the second part, the chemical processes relevant to fire will be discussed. Besides the burning process itself, the way that materials behave chemically in fire will also be discussed. It is hoped that firefighters will gain an understanding of the dangers that new materials present and the way the weapons they have to fight them work. The third part of the book discusses fire extinction.
This publication replaces the 'Manual of Firemanship – Book 1: Elements of Combustion and Extinction'.
Find similar publications here: