Generic Risk Assessment Series (pre 2009)
Generic Risk Assessment 3.2 - High Rise Firefighting
Version 2 - September 2008
Author:

Chief Fire and Rescue Advisers Unit - Communities and Local Government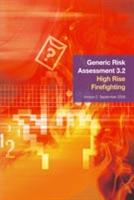 Add to Basket
For firefighting purposes, a high-rise building is considered to be one containing floors at such a height or position, or design that external firefighting and rescue operations may not be feasible or practicable. This assessment considers the hazard risks and control measures for operational incidents involving high rise buildings.
This Generic Risk Assessment (GRA) does not cover all aspects of firefighting in buildings, however, the principles espoused within this document could still be applicable, subject to information and dynamic risk assessment.
Contents:
Key operational factors

Scope

Introduction

Hazards and risks.

Key control measures

Operational pre-planning and information gathering

On arrival

Proceeding to and establishing the bridgehead

Firefighting, search and rescue

Post firefighting operations

Issues which could impact upon a response, exacerbate a fire situation and/or augment risk to firefighters.

Aide memoires

Aide memoire 1: Considerations for Incident and Sector Commanders

Aide memoire 2: Key considerations for all personnel.
› More titles from the Generic Risk Assessment series...
Find similar publications here: