Generic Risk Assessment Series (pre 2009)
Volume 3: A Guide to Operational Risk Assessment
Fire Service Guides – Generic Risk Assessment Series
Author:

HM Fire Service Inspectorate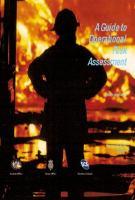 Add to Basket
The Generic Risk Assessment Series has been produced to help brigades in their response to regulatory requirements with regard to risk assessment. This title provides practical guidance on how the assessments may be used by fire brigades.
Key features:
Responding to Emergencies

Carrying out Rescues

Fighting Fires

Incidents Involving Transport

Generic Hazards.
Find similar publications here: