Volume 2: A Guide for Managers – Module 18: Health and Safety Audit
Fire Service Guides – Generic Risk Assessment Series
Author:

HM Fire Service Inspectorate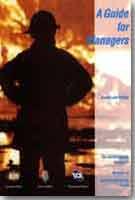 Fire Authorities and their officers have a statutory responsibility to effectively plan, organise, control, monitor and review their protective and preventive measures for health and safety in accordance with the Health and Safety at Work Regulations 1992.
Auditing is an effective way to ensuring that standards are being maintained and continually improved. An effective audit programme will identify good practice and highlight deficiencies. This in turn will allow the development of action programmes to address inadequacies in the management systems which control risks to employees, the public and the environment.
This publication provides further text to 'Volume 2: A Guide for Managers – Fire Service Guide' (ISBN 0113412193, available below). It follows the style of A Guide for Managers, giving information on:
Introduction

Key Stages of Audit

Options for Audit

The Auditors.
Find similar publications here: