Security
Information technology. Security techniques. Code of practice for information security controls
BS ISO IEC27002:2013
Author:

British Standards Institution (BSI)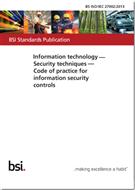 Add to Basket
This internationally acclaimed standard for information security management has been revised. Since their conception in the early 1990s, globally recognized standards in Information Security have grown in rigor and recognition. So have information security threats and the best ways to manage them.
To reflect current best practice, the updated BS ISO/IEC 27002:2013 is the reference handbook for selecting controls for use within an Information Security Management System (ISMS) based on ISO/IEC 27001. It can also be used as a guidance document for any organization wishing to implement commonly accepted information security controls.
The new International Standard is based on the high level structure that will be common to all new management system standards (including the new BS ISO/IEC 27001:2013). Whilst many of its controls in BS ISO/IEC 27002:2013 are unchanged from the 2005 edition, the associated guidance text has been thoroughly reviewed and updated.
Some controls have been removed or combined as they are no longer considered best practice in today's highly interconnected world. Other controls have been clarified or reworded. New controls have been added, addressing developments in technology such as cloud computing and new management challenges such as supplier chain relationships.
BS ISO/IEC 27002:2013 lets you compare your existing security policies and Statements of Applicability against these updated and clarified controls and guidance to ensure you are truly aligned with current best practice. If you are implementing information security for the first time, the new standard ensures you are following today's best practice from the start.