Fire
Commissioning And Maintenance Of Portable Fire Extinguishers. Code Of Practice
BS 5306-3:2009
Author:

British Standards Institute (BSI)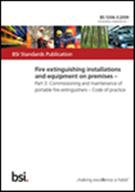 Add to Basket
BS 5306-3:2009 gives best practice recommendations for the initial commissioning of portable fire extinguishers and provides schedules for the maintenance of fire extinguishers installed at locations. It also includes guidance on how to handle specific types of extinguishers without maintenance schedules.
BS 5306-3 looks at five levels of installation and maintenance: commissioning; basic service; extended service; overhaul procedures; and recharge.
The standard defines the process of commissioning, before describing visual inspection by anyone responsible for the testing of fire fighting equipment. It looks at the basic service, extended service, overhaul and recharging of extinguishers. The standard also includes information on the training of personnel, as well as the use of halogenated hydrocarbons to fight fire.
Find similar publications here: