Construction
Design and manufacture of site built, vertical, cylindrical, flat-bottomed steel tanks for the storage of refrigerated, liquefied gases with operating temperatures between 0ºc and -165ºc - Part 4: Insulation components
BS EN 14620-4:2006
Author:

BSI

Publisher:

BDC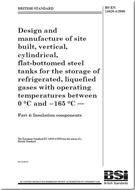 Add to Basket
BS EN 14620-4:2006 specifies the requirements for materials, design and installation of the insulation of refrigerated liquefied gas (RLG) storage tanks.
RLG storage tanks store liquefied gas with a low boiling point, i.e. below normal ambient temperature.
The concept of storing such products in liquid form and in non-pressurized tanks therefore depends on the combination of latent heat of vaporization and thermal insulation.
Consequently thermal insulation for RLG storage tanks is not an ancillary part of the containment system (as for most ambient atmospheric hydrocarbon tanks) but it is an essential component and the storage tank cannot operate without a properly designed, installed and maintained insulation system.
Find similar publications here: