British Standards
BS 8878:2010 Web Accessibility Code of practice
Author:

BSI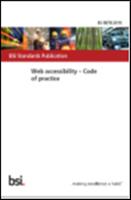 Add to Basket
BS 8878:2010 is the first British standard to outline a framework for web accessibility when designing or commissioning web products. It provides guidance for all sectors on meeting the requirements of the Equality Act 2010 which states that web products must be accessible to all.
The BS 8878:2010 code of practice applies to all products delivered via a web browser, including websites, web services and web-based applications such as email. The standard also focuses on processes rather than technical or design issues and is recognised by the UK Government's e-Accessibility Action Plan as a key tool for developing accessible online services.
BS 8878:2010 is designed as an introduction to digital accessibility for non-technical professionals. It will help anyone commissioning or designing a website or product to ensure it can be accessed by anyone. It outlines ways to define and assess the impact of web products on users, especially disabled and older people. The standard explains different user needs, highlighting those with physical impairments or learning difficulties. It also provides a digital accessibility framework for product development and testing, as well as information that can be included in your accessibility and procurement statement.
Quick summary of BS 8878's process in 88 seconds...
You can achieve regulatory and legal compliance with BS 8878:2010 and ensure your web products are available to a wider audience.
Find similar publications here: