Nutrition
The Influence of Maternal, Fetal and Child Nutrition on the Development of Chronic Disease in Later Life
Author:

Scientific Advisory Committee on Nutrition (SACN)

Publisher:

TSO (The Stationery Office)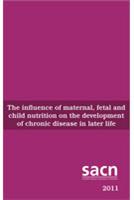 Add to Basket
In this final report on the 'The Influence of Maternal, Fetal and Child Nutrition on the Development of Chronic Disease in Later Life', the Subgroup on Maternal and Child Nutrition (SMCN) reviews the evidence that early life nutrition exerts long-term effects and influences the risk of chronic disease in adulthood, bringing together findings from both observational and experimental studies, and considering implications for maternal and child nutrition in the UK.
SACN concludes that there is cause for concern about the later health consequences of compromised or excessive nutrient supply during early fetal and infant life.
The subgroup notes that in the context of reproduction, the impact of current dietary patterns on women and girls is of particular concern, and considers that improving the nutritional status of women of childbearing age, infants and young children has the potential to improve the health of future generations.
The Committee also offers recommendations for future research in this area, particularly emphasising the need for data which better characterise dietary patterns and patterns of pre and postnatal growth.
Find similar publications here:
Specialist Medicine & Treatment
Medicine

Show all Subjects & Categories