Nutrition
Iron and Health
Scientific Advisory Committee on Nutrition 2010
Author:

Scientific Advisory Committee on Nutrition (SACN)

Publisher:

TSO (The Stationery Office)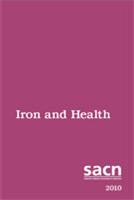 Add to Basket
The report 'Iron and Health' provides a comprehensive review of the role of iron in human nutrition and also assesses the adequacy of iron intakes and status of the general and low income populations in the UK.
For the general population, SACN is recommending a public health approach to achieving adequate iron status based on a healthy balanced diet that includes a variety of foods containing iron. This is a change to current dietary advice that iron-rich foods should be consumed at the same time as foods/drinks which enhance iron absorption (e.g., fruit, meat) but should not be consumed with those that inhibit iron absorption (e.g., tea, coffee, milk).
Groups identified as being at risk of iron deficiency anaemia include:
toddlers;

girls and women of reproductive age; and

some adult groups aged over 65 years.
Health professionals need to be aware of increased risk of iron deficiency anaemia in these groups and those with evidence suggestive of iron deficiency anaemia should receive appropriate clinical assessment and advice.
Red and processed meat is probably associated with an increased risk of colorectal cancer and SACN is advising high consumers of red and processed meat to consider reducing their intakes. Reducing such intake to the population average for adult consumers (estimated to be about 70 g/day cooked weight in 2000/01) would have little effect on the proportion of the population with iron intakes below the lower limit of recommended intake for iron.
Find similar publications here:
Specialist Medicine & Treatment
Medicine

Show all Subjects & Categories