Nutrition
The Nutritional Wellbeing of the British Population
Scientific Advisory Committee on Nutrition 2008
Author:

Scientific Advisory Committee on Nutrition (SACN)

Publisher:

TSO (The Stationery Office)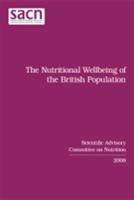 Add to Basket
This report, 'The Nutritional Wellbeing of the British Population', summarises the analysis of the results of the British National Diet Surveys. The aims of these nationwide surveys, undertaken at regular intervals across a representative sample of the British population, are:
to review the nutritional status of the British population;

to identify specific health outcomes where the population failed to meet dietary recommendations; and

to identify any specific groups at risk.
This report also provides practical proposals for improvement where sections of the population have been shown to consume a poor diet. Special attention is paid to health outcomes not currently the focus of governmental policy.
There is no single analytical technique that can provide a definitive picture of diet and nutritional status in the British population. The analyses presented in this report use a range of appropriate analytical techniques to draw out general patterns in the diet and nutrition of the population.
The report is presented in two sections:
Section 1: The nutritional health of the British population. This is based on data from the four surveys in the National Diet and Nutrition Survey (NDNS) programme carried out between 1992 and 2001.

Section 2: Analysis of the micronutrient intake and status of British adults. Changes in the adult population are highlighted by comparison of results from the NDNS in 2000-01 with the survey in 1986-87.
Key Features:
Diet and dietary habits

Energy and macronutrient intakes

Oral health

Regional and socio-economic differences

Low income diet and nutrition survey

Ethnicity

Analysis of the micronutrient intake and status of British adults.
Related titles:
Find similar publications here:
Specialist Medicine & Treatment
Medicine

Show all Subjects & Categories