Nutrition
Infant Feeding Survey 2005: A Commentary on Infant Feeding Practices in the UK – Implications for Policy and Practice
Position statement by the Scientific Advisory Committee on Nutrition 2008
Author:

Scientific Advisory Committee on Nutrition (SACN)

Publisher:

TSO (The Stationery Office)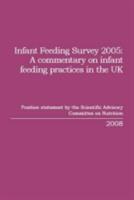 Add to Basket
The Infant Feeding Survey has been conducted every five years since 1975 and captures a wealth of information about infant feeding practices in the United Kingdom. It helps to describe historical trends in infant feeding practice and identify opportunities for improved implementation of national policy.
The Scientific Advisory Committee on Nutrition (SACN) Subgroup on Maternal and Child Nutrition (SMCN) has reviewed the findings of the 2005 Infant Feeding Survey. It particularly welcomes the significant increases observed in breastfeeding initiation across the UK and a marked reduction in the proportion of infants given solid foods at an inappropriately young age.
This review recommends options to improve infant feeding practice and informs infant feeding policy. It also suggests areas for deeper exploration in future quinquennial surveys, particularly to take account of the national implementation of 'Healthy Start' in 2006 and to define its effects on practice.
Contents include:
Survey methodology

UK Infant Feeding Strategy

Key findings from the survey

Inequalities in infant feeding

Findings relevant to the promotion and support of breastfeeding

Factors affecting the introduction of solids

Use of liquids other than breastmilk

Use of dietary supplements.
The appendix to this publication includes key findings from the survey including details of the incidence, prevalence and duration of breastfeeding, use of breastmilk substitutes and dietary supplements, and the introduction of solids.
Find similar publications here:
Specialist Medicine & Treatment
Medicine

Show all Subjects & Categories