United States Pharmacopeia
USP Dictionary of United States Adopted names and International Drug Names 2018
Author:

United States Pharmacopeia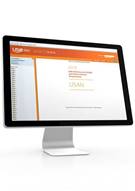 Add to Basket
The USP Dictionary of United States Adopted Names (USAN) and International Drug Names is the leading reference for non-proprietary drug names and chemical structures.
In addition to USANs, the USP Dictionary provides International Non-proprietary Names (INNs), British Approved Names, Japanese Accepted Names, brand names, Unique Ingredient Identifier (UNII) codes, manufacturers, official USP-NF names, molecular weights, graphic formulas, pharmacologic and/or therapeutic categories, and pronunciations.
Key Features
The 2018 edition features the latest drug name updates and information, including:
5,829 United States Adopted Names (USAN) - 146 are new

12,295 non-proprietary drug name entries, 3,513 brand names

14, 000 UNII codes, 6,950 code designations (including 402 NSC numbers)

14,280 CAS registry numbers, 10,607 graphics, 166 new pronunciations
Benefits & Applications
Ensure official compliance in product labelling in order to obtain new drug approval

Determine drug names to use in advertising as required by U.S. federal law

Preserve trademark rights to drug brand names by using proper generic names

File accurate and acceptable INDs, NDAs, and ANDAs

Avoid errors in reports, correspondence, articles, and package inserts

Verify names and spellings of materials used in laboratory research

Group drug products into families and determine exact chemical structures

Avoid serious verbal medication errors
Subscription Information
USP Dictionary updates and revisions are published annually each January. Subscriptions are available exclusively in online format, valid for 12 months from date of activation.