Indian Pharmacopoeia 2018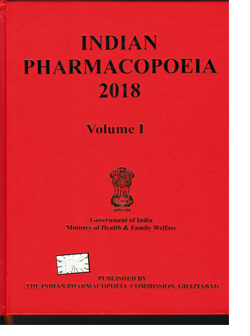 Indian Pharmacopoeia 2018
Author: Indian Pharmacopoeia Commission
Publisher: Indian Pharmacopoeia Commission
The Eighth edition of Indian Pharmacopoeia (IP- 2018) is published by the Indian Pharmacopoeia Commission (IPC) on behalf of the Ministry of Health & Family Welfare, Government of India.
...Read more
IP-2018 has been brought out in 4 Volumes incorporating:

220 New monographs
170 New Chemical Monographs

49 API
64 Formulations
53 Fixed Dose Formulations
02 Excipients
02 Antibiotics

15 New Herbal Monographs

03 New Radiopharmaceutical Monographs

14 Veterinary Monographs

18 New Biological Monographs

2 Vaccines and Immunosera for Human use monographs
10 Blood and Blood related products
6 Biotechnology Derived Therapeutic Products
The 2018 edition also contains 366 revised monographs and 7 omissions.
Standards for new drugs and drugs used under National Health Programmes are also included. 53 New Fixed Dose Combination (FDC's) combination monographs have been included, out of which 25 FDC monographs are not available in any Pharmacopoeia.
Show less
Recommendations...