Author:The British Pharmacopoeia Commission Secretariat of the Medicines and Healthcare products Regulatory Agency (MHRA)
Publisher: TSO (The Stationery Office)
British Pharmacopoeia 2022
Helping you to do your job quickly, easily and with confidence.
New, legally enforced standards, available from 1 August 2021. All European Pharmacopoeia texts included.
Updated annually, the British Pharmacopoeia (BP) is the only comprehensive collection of authoritative official standards for UK pharmaceutical substances and medicinal products.
It includes approximately 4,000 monographs which are legally enforced by the Human Medicines Regulations 2012. Where a BP monograph exists, medicinal products or active pharmaceutical ingredients sold or supplied in the UK must comply with the relevant monograph.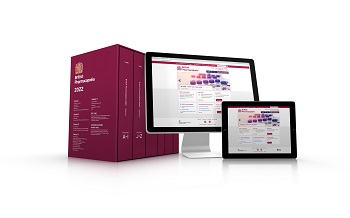 All monographs and requirements of the European Pharmacopoeia (Ph. Eur.) are reproduced in the BP, making the BP a convenient and fully comprehensive set of standards that can be used across Europe and beyond.
New for the BP 2022
The BP 2022 supersedes the BP 2021 and becomes legally effective on 1 January 2022. This edition incorporates new monographs from both the BP and Ph. Eur. along with a significant number of revised monographs.
Monographs and content:
25 new BP monographs, 38 new Ph. Eur. monographs.
133 amended BP monographs.
All monographs from the Ph. Eur. 10th edition as amended by Supplements 10.1 to 10.5 are included.
Ph. Eur. supplements 10.6, 10.7, and 10.8 included as in-year online and download product updates.
We're releasing new BPCRS to coincide with the new and revised monographs in the BP 2022. This means you can order the new chemical reference standards alongside the BP 2022 - helping you comply with the new standards from January 2022. Browse the BPCRS catalogue.
Ensure you get the best value access to the information you need. Choose from a range of flexible licences and formats - including full online and offline access.
Online tools and guides:
New Revision History beta allows website users to easily view and understand the reasons a change to a monograph has been made.
Tracked Changes makes it easier to identify changes made to monographs and view the most recent versions suitable to you. Save time when reading through monographs with clear symbols highlighting different types of changes and customise your view by toggling through different levels of detail.
Streamlined Timeline and cleaner design helps you find the information you need. Easily see the editions of the BP in which a monograph was published and subsequently revised. Archive subscribers can now access all previous editions of BP and Ph. Eur., through the improved navigation.
Concise 'How to use the BP' guide, helping you to comply with the BP, navigate more effectively and follow formulated product monographs.
Great value access to the information you need. Choose from a range of flexible licences and formats - including full online and offline access.
Key customer groups
...Read more
If a pharmaceutical substance or finished product is marketed in a country where the BP is a legal standard, it must comply with the requirements of the BP throughout its shelf life. This makes the BP relevant and essential for:
Global suppliers and sellers of active pharmaceutical ingredients and medicinal products including but not limited to; Pharmaceutical researchers and manufacturers, chemists, biotechnologists, quality assurance and quality controls inspectors, laboratory technicians and regulatory bodies.
Specialist researchers and lecturers in the field of pharmacy, biological science, biochemistry and pharmaceutical science can use the BP for research into medicinal products using the most up-to-date monographs.
Show less