Pharmaceutical
Stockley's Drug Interactions - 11th Edition
Author:

Pharmaceutical Press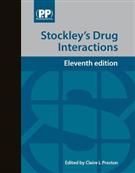 Add to Basket
Stockley's Drug Interactions remains the world's most comprehensive and authoritative international reference book on drug interactions. The eleventh edition is based upon thousands of published papers and reports and covers interactions between therapeutic drugs, proprietary medicines, some commonly used herbal medicines, foods, drinks, pesticides and drugs of abuse.
Readers are provided with a comprehensive and fully-referenced discussion of the available clinical evidence for interactions, an assessment of their clinical importance and clear practical guidance on how to manage the interaction. The content is clinically relevant, evaluated, evidence-based and provides a depth of critical information that can be missing from more general reference works.
The content is organised into almost 4,500 in-depth yet concise monographs in an easy-to-read format.
New to the 11th Edition:
350 new monographs added and many existing monographs have been reviewed, revalidated and updated

Comprehensive update and restructure of the chapter on Antidiabetic drugs, in-line with published literature

Addition of new advice regarding the concurrent use of aliskiren, ACE inhibitors, and angiotensin-II receptor antagonists

An updated list of drugs that have a risk of prolonging the QT interval

The addition of new drugs, including apixaban, apremilast, dolutegravir, lomitapide, mirabegron, the NS5A inhibitors (daclatasvir, ledipasvir, ombitasvir), the NS5B inhibitors (dasabuvir, sofosbuvir), the sodium-glucose co-transporter-2 inhibitors (canagliflozin, dapagliflozin, empagliflozin), and telavancin
This title supersedes Stockley's Drug Interactions 10th Edition, published 26 Mar 2013, ISBN 9780857110619.
Find similar publications here: