National Minimum Standards and Regulations
Fostering Services: National Minimum Standards – Fostering Services Regulations
Author:

Department of Health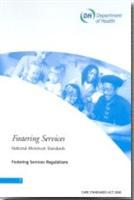 Add to Basket
'Fostering Services: National Minimum Standards – Fostering Services Regulations' contains the regulations and National Minimum Standards that form the basis of the new regulatory framework for the conduct of fostering services under the Care Standards Act 2000 (ISBN 010541400X). They are applicable to local authority fostering services, independent fostering agencies, and voluntary organisations providing fostering services under section 59 of the Children Act 1989 (ISBN 0105441899, available below).
The standards cover:
management of the fostering service;

securing and promoting welfare;

recruiting, managing and training staff and foster carers;

record keeping;

management of premises;

financial requirements;

fostering panels;

short-term breaks; and

the contribution of family and friends as carers.
Find similar publications here: