Police & Criminal Evidence ACT - Braille
Police and Criminal Evidence Act 1984 (PACE) Codes A to H in Braille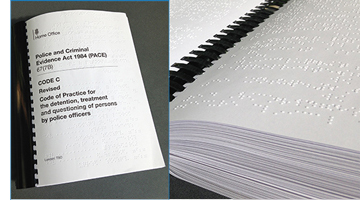 Working with the Home Office to publish the PACE codes of Practice, TSO have recently had enquiries about the availability of the codes in braille. We are pleased to now be able to offer the PACE codes of practice in braille.
Currently the advice in the codes requires the visually impaired to ask for assistance in reading. This braille copy would mean that the offender could take responsibility for familiarising themselves with the code without the need to seek assistance from an officer.
The Police and Criminal Evidence Act (PACE) and its Codes of Practice are a vital part of the legislative framework. PACE lays out police powers for combating crime while protecting the rights of the public.
These Codes of Practice must be readily available at all police stations for consultation by police officers, police staff, detained persons and members of the public. The notes for guidance included are not provisions of this code, but are guidance to police officers and others about its application and interpretation.
The braille used for these titles is embossed using British Grade 2 braille code. Pages use doublesided embossing on 120 gsm white A4. The front-cover is a combination colour print and braille. These documents are bound using a plastic comb, allowing the document to be laid flat for reading when opened.
Coming Soon...