Arboriculture
FAO Yearbook - Forest Products 1997-2001
FAO Forestry Series Food and Agriculture Organization 36, FAO Statistics Series Food and Agriculture Organization 171
Author:

Food and Agriculture Organization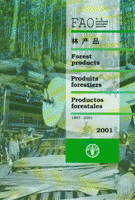 Add to Basket
This is the 55th edition of the Yearbook which contains data for all countries and territories of the world relating to the production and trade in forest products for the years 1997-2001, and on the direction of trade in 2000 and 2001.Text is written in English, Arabic and Chinese.
The data is based primarily on information provided by individual countries through questionnaires or official publications and in the absence of official data FAO estimates are given.
Key Features:
Data on the Countries which are major producers, consumers and traders of forest products in 2001.

the main tables showing volume of production, consumption and trade as well as total and unit trade values by country and type of product.

data on bilateral trade for major product categories.
Find similar publications here: