Car Drivers
The Official DVSA Guide to Learning to Drive
Book
Author:

Driver & Vehicle Standards Agency (DVSA)

Publisher:

TSO (The Stationery Office)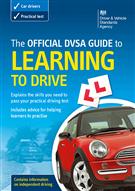 Add to Basket
The only official guide which explains the standards required to pass your practical driving test.
4 reasons to buy it:
Key driving skills - all 24 skills you will be tested on explained in detail

Practical test explained - describes the standards required to pass your practical driving test, including information on independent driving

Private practice help - advice for those working with learner drivers and their instructor to get the most out of the time between lessons

What to expect on test - explains what the examiner is looking for, plus tips from the experts
More information:
Perfect your skills - key driving skills explained, with reminders and recap questions to help you understand and remember the advice

Get the most from your lessons - advice on structuring lessons with an instructor and suggested follow-up topics

Helping learners practice - tips and information for anyone helping you practice outside of your lessons, including the law, potential hazards and planning routes

What to expect on the day - takes the mystery out of the test so you can be confident on the day

Extra resources - includes references to The Official Highway Code and The Official DVSA Guide to Driving - the essential skills where you can learn more

Developing your skills - advice on how you can continue to develop your skills and confidence after the test and other tests, such as towing
Written by the Driver & Vehicle Standards Agency, the people who set the driving tests.
Have you considered downloading this title?
Related resources:
Watch 'The Highway Code: for life, not just for learners' video on YouTube! (opens new window)

Find similar publications here: