itSMF
IT That Matters - An Executive's Guide to Maximizing the strategic value from your IT Investment
Author:

Dennis Ravenelle

Publisher:

TSO (The Stationery Office)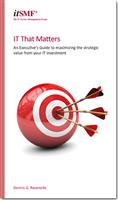 Add to Basket
'IT That Matters - An Executive's Guide to Maximizing the Strategic Value from your IT Investment' distils and serves up the Eight Imperatives that leaders must imprint into their organizations' cultures and execute to make the ascent from the bottom of the maturity scale - initial, ad hoc, chaotic - to the pinnacle of maturity - integrated and optimized.
The top of the maturity scale is occupied by only the top few organizations, where every dollar spent on IT yields a return that is measured in business terms.
The journey is further colourfully illustrated with a metaphorical "road trip".
itSMF cite award-winning cases including work done by the MIT Sloan School Center for Information Systems Research (CISR), prestigious faculty of the Harvard Business School and others.
Chock-a-block with insight, this quick read intends to give governing boards and non-IT business executives guidance to transition their IT from a cost of doing business to a strategic asset.
Key features:
This short volume offers a quick read in clear business language; free of jargon.

It is filled with references to additional useful resources.

It provides a clear roadmap from fixing the basic infrastructure to defining an organizational structure.
Find similar publications here: