AXELOS® ProPath
AXELOS ProPath brings together the world's leading project, programme and portfolio best practice certifications to help you deliver powerful organisational change. It has been designed to support professionals in continually evolving their capabilities in fast-paced, modern environments.
Find out more about the new certification scheme

The official AXELOS ProPath books and PDFs are essential study guides and support you to:
Enhance your AXELOS ProPath study to pass your exams
Understand key AXELOS ProPath terms and processes
Enhance your skills, career and salary potential
Find solutions to day-to-day business challenges as an expert reference tool
Did you know that all AXELOS ProPath Practitioner level exams are open book? Find out more about the open book exam rules, and which exams and titles go together.
Convenient packs to suit your path
Individual titles for your AXELOS ProPath modules
Packs
AXELOS ProPath Complete Pack
AXELOS ProPath Agile Project Expert Pack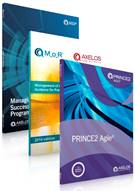 If you're passionate about the flexibility and responsiveness of Agile project management, this is the path for you. The AXELOS ProPath Agile Project Expert pack is available in paperback, PDF and online. It includes all titles needed to achieve the Agile Project Expert certification.
Available formats:
AXELOS ProPath Project Expert Pack
AXELOS ProPath Programme Leader Pack
Individual titles
Managing Successful Programmes 5th edition
Managing Successful Projects with PRINCE2
Management of Risk (M_o_R): Guidance for Practitioners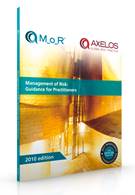 This guide brings together risk management principles, an approach and process with a set of interrelated steps. It supports decision-making and advises how these principles, approach and processes should be embedded, reviewed and applied within different risk contexts.
Available formats:
Portfolios, Programmes and Project Management (P3O)