Traffic Signs
Traffic Signs Manual Chapter 3: Regulatory Signs
Author:

Department for Transport (DfT)

Publisher:

TSO (The Stationery Office)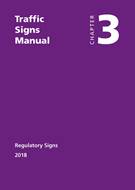 The Traffic Signs Manual Chapter 3: Regulatory Signs explains the correct use of regulatory signs prescribed by the Traffic Signs Regulations. These include prohibited turns, waiting and loading restrictions and bus and cycle lanes. There is also a comprehensive section dealing with the signing of speed limits.
The traffic signs manual gives guidance on the use of traffic signs and road markings prescribed by the Traffic Signs Regulations and covers England, Wales, Scotland and Northern Ireland.
Key features
Stop and give way signs

Compulsory and prohibited movements

Prohibition of traffic

Prohibition of waiting and loading

On-street parking and loading

Clearway and no stopping signs

Red routes

Pedestrian zones

Controlled parking zones

Restricted parking zones

Speed limits

Bus lanes and gates

Tram signs

Cycle facilities

Lane control signals and signs for tidal flow
More information
This publication supersedes the 2008 edition (ISBN 9780115529252)..
Find similar publications here: