Investors in People: Your Journey
Author:

Investors in People

Publisher:

TSO (The Stationery Office)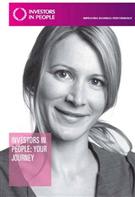 Investors in People have introduced a new approach to the way they work with their customers. This approach strengthens the element of customer choice and puts the focus on customers' priorities and ambitions and how they can achieve them. This publication is ideal for organisations that are new to Investors in People, as it explains what Investors in People is, and how a company can work with the framework to improve their performance.
The focus of this publication is to provide an organisation with a guide to the Investors in People process, from commitment to recognition and beyond. Your Journey outlines key contacts, advice that can help organisations along the way, the length of the process and details on assessment, recognition and review.
This publication also features chapters on pricing, internal review, additional recognition beyond The Standard (Bronze, Silver and Gold status) and available support, such as the Champions and Ambassadors schemes.
Key Features:
What is Investors in People

How Investors in People works

The value of Investors in People - case studies and testimonials

Your Journey

Pricing

Internal Review

Further stretch

Support along the way

A map detailing all Investors in People centres.
"Investors in People has turned our business around. It was never about getting the badge. We were drowning, not waving; it threw us a lifeline." Anne Wallace, Company Director, Taylor's Fish & Chips.