Consumer Insurance Law: Pre-Contract Disclosure and Misrepresentation
Cm. 7758
Author:

The Law Commission and The Scottish Law Commission

Publisher:

TSO (The Stationery Office)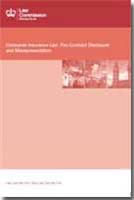 'Consumer Insurance Law: Pre-Contract Disclosure and Misrepresentation (Cm. 7758)' recommends clarification of the law about the information which a consumer should tell an insurer when taking out a policy. It includes draft legislation to replace the current law which is more than 100 years old and was designed for ship owners insuring large vessels rather than today's consumer insurance market. Under that statute, insurers can refuse to pay out if a policyholder failed to disclose any relevant information, even if the consumer answered all questions that were asked honestly and reasonably.
The draft Bill appended to the report will clarify a raft of existing rules and guidance employed by insurers, the Financial Services Authority and the Financial Ombudsman Service.
Under the recommendations:
Insurers must ask questions about any matter which they wish to know in order to assess the risk being insured.

Consumers who take reasonable care to answer insurers' questions fully and accurately can expect to have any subsequent claims paid in full.

If a consumer makes a careless mistake when answering a question, he or she might still be entitled to have some of the claim paid.
The Commissions' recommendations follow a detailed consultation exercise - started with a discussion paper 'Insurance Contract Law: Misrepresentation, Non-Disclosure and Breach of Warranty by the Insured (Joint Consultation Paper LCCP 182 / SLCDP 134)' - which found widespread support for the proposed changes from major insurers, insurance brokers and lawyers as well as consumer groups.
Find similar publications here: