ITIL V3 Foundation Handbook PDF
Pocketbook from the Official Publisher of ITIL
Author:

Ashley Hanna, John Windebank, Simon Adams, John Sowerby, Stuart Rance, Alison Cartlidge

Publisher:

TSO (The Stationery Office)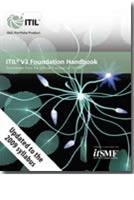 In line with the new 2009 syllabus, this reference revision guide, 'ITIL V3 Foundation Handbook: Pocketbook from the Official Publisher of ITIL PDF' has been designed to help students sitting the ITIL V3 Foundation Exam. The title provides a key reference aid for managers, practitioners, vendors and consultants in the workplace and while travelling.
This publication provides an introduction to the ITIL V3 Service Lifecycle model and an overview of the ITIL V3 qualification structure. The guide contains a chapter on each of the components of the Lifecycle; Service Strategy, Service Design, Service Transition, Service Operation and Continual Service Improvement. These chapters contain an overview of each of the process and functions in the lifecycle including value, scope, activities and metrics.
Key features:
Provides a concise summary of ITIL V3

Follows the 2009 ITIL V3 Foundation syllabus

Contains a glossary of syllabus definitions.
"Very useful for both the ITIL Foundation student attending training as well as the instructor. Could be used as part of handouts during or even better, before training." Michael Imhoff Nielsen, IBM Denmark.
A PDF allows for easy access while you're on the move:
Single user

Non-networkable

Basic downloadable PDF: searchable with a bookmarking function.
Please see our PDF Downloads help page for more information on purchasing and downloading electronic publications.
Related resources:
> Core Study Material for ITIL V3 Qualifications Diagram (PDF - 88Kb)
> 'Everything you wanted to know about ITIL in less than one thousand words' White Paper by Jane Clark, Management Consultant from Connect Sphere Limited (PDF - 556Kb)
'An Introductory Overview of ITIL V3' Pocketbook. (PDF - 647Kb)
Extent
190 pages
ISBN
9780113313303
Size
2.45Mb
Price

£9.95

(

£11.94

inc. VAT)
Format
Downloadable PDF
Published
29 Jun 2011
Availability

Available Immediately
Already own a copy?
We are interested in your opinion. Please
review this publication
. (Opens in a new window.)