Planning Policy Statements PPS
Planning Policy Statement: Planning and Climate Change
Supplement to Planning Policy Statement 1
Author:

Department for Communities and Local Government

Publisher:

TSO (The Stationery Office)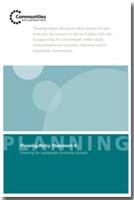 Planning Policy Statements (PPS) set out the Government's national policies on different aspects of spatial planning in England. 'Planning Policy Statement: Planning and Climate Change' sets out the overarching planning policies on the delivery of sustainable development through the planning system.
This PPS on climate change supplements 'Delivering Sustainable Development - PPS1' by setting out how planning should contribute to reducing emissions, stabilising climate change and take into account the unavoidable consequences. It does not seek to assemble all national planning policy relevant or applicable to climate change and should be read alongside the national PPS/G series.
Where there is difference in emphasis on climate change between the policies in this PPS and others in the national series is intentional and this PPS takes precedence.