Parliamentary
Financial Management in the Home Office
HC 1832, Report by the Comptroller and Auditor General, Session 2010-12
Author:

National Audit Office (NAO)

Publisher:

TSO (The Stationery Office)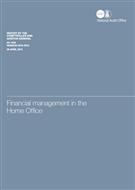 The report 'Financial Management in the Home Office (HC 1832)' identifies how the Home Office has made good progress in improving its financial management since 2009 when the National Audit Office last evaluated its financial capability.
However, while financial control is good, the Home Office could do more to integrate its financial and operational planning and thereby understand better the link between resources and performance.
Many of the strengths which the Department demonstrates in its core business are much less apparent in its 'change programmes'. The Department is starting to benefit from its new governance structures but there are still challenges.
The Department has clear plans to reduce costs in its core activities but business areas have not fully considered efficiency and effectiveness when evaluating where cuts should be made. The Department will need to achieve further savings of £1.1 billion a year by 2014-15 but a third of this sum remains uncertain.
Reductions in funding from the Home Office mean that police forces must make savings worth around £1.5 billion by 2014-15 through efficiency improvements; but, in 2011, around two-thirds of forces had shortfalls in their cost reduction plans, amounting to £500 million in total. The Department will shortly be in a position to confirm how far this savings gap has been covered in the plans.
There are risks to the successful delivery of the Department's change programmes, specifically in respect of the development of the National Crime Agency (NCA) and Disclosure and Barring Service (DBS) and the phasing out of the National Policing Improvement Agency (NPIA).
Find similar publications here: