Parliamentary
Reorganising Central Government Bodies
HC 1802, Seventy-seventh Report of Session 2010-12 - Report, Together with Formal Minutes, Oral and Written Evidence
Author:

House of Commons - Committee of Public Accounts

Publisher:

TSO (The Stationery Office)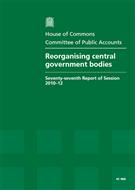 'Reorganising Central Government Bodies (HC 1802)' looks at the Government's plan to make substantial and lasting savings, by reducing the number of its arm's length bodies under the Public Bodies Reform Programme from 904 to between 632 and 642 by the end of the current Spending Review period.
The Programme is intended to improve accountability for functions currently carried out at arm's length from Ministers. The Cabinet Office says it is on track to make £2.6 billion of administrative savings by 2015. However there are substantial reservations about the robustness of this claim.
Key concerns are:
that there is a risk departments are claiming savings which are actually cuts to services, when they should be including only genuine savings arising from administrative reorganisations;

the estimates of transition costs such as redundancy and pension costs are incomplete; and

that the savings estimate does not account for the ongoing costs to other parts of Government taking on functions transferred from abolished bodies, leading to some departments wrongly including wider savings from bodies being retained, rather than just administrative savings from bodies being abolished or substantially reformed.
The Cabinet Office has accepted that its savings estimate needs to be reassessed and has undertaken to 'rebase' it. Focus now needs to be on managing the Programme effectively.
Departments have decided on the form of individual reorganisations themselves without clear direction from the centre, leading in some cases to inconsistent treatment of bodies with similar functions. Furthermore, departments may not be getting the best value for money from the sale or transfer of assets of bodies being abolished.
Find similar publications here: