Parliamentary
Draft House of Lords Reform Bill
HL 284-I & HC 1313-I, Report of Session 2010-12 - Volume I: Report, Together with Appendices and Formal Minutes
Author:

House of Lords & House of Commons - Joint Committee on the Draft House of Lords Reform Bill

Publisher:

TSO (The Stationery Office)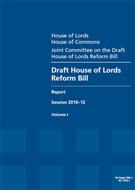 The reform of the House of Lords has a long history since the Parliament Act 1911, and since the House of Lords Act 1999 removed the right of all but 92 hereditary peers to sit in the Lords, there have been a number of initiatives to further the debate. 'Draft House of Lords Reform Bill (HL 284-I & HC 1313-I)' follows the latest proposals contained in the draft Bill (see below) published in May 2011 that was referred to the Joint Committee.
The Joint Committee acknowledges the controversial aspects of certain proposals and the members of the Committee reflect wider differences of opinion, with many of the report's recommendations being decided by a majority.
The majority supports the need for an electoral mandate, provided the House has commensurate powers. The current functions and role would continue, but the House would probably seek to be more assertive, to an extent that cannot be predicted. The Committee recommends a House of 450 members, 80% elected on a system of Single Transferable Voting (preferably that used in New South Wales, not the one proposed in the Bill) for a 15 year term.
The main sections of the report cover:
functions - the role and primacy of the Commons and its conventions;

the electoral system - size, voting and constituencies;

appointments - bishops and ministers; and

transition - salaries, the Independent Parliamentary Standards Authority (IPSA), and disqualification.
The Committee also recommends, in view of the significance of the constitutional change, that the Government should submit the decision to a referendum.
Find similar publications here: