Medicine & Health
No Vaccine, no Cure: HIV and AIDS in the United Kingdom
HL 188, First Report of Session 2010-12
Author:

House of Lords - Select Committee on HIV and AIDS in the United Kingdom

Publisher:

TSO (The Stationery Office)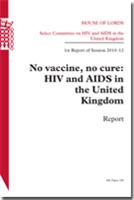 'No Vaccine, no Cure: HIV and AIDS in the United Kingdom (HL 188)' reports the House of Lords Select Committee on HIV and AIDS in the United Kingdom's findings that the number of people accessing care has trebled since 2000 and Human immunodeficiency virus (HIV) and Acquired immune deficiency syndrome or Acquired immunodeficiency syndrome (AIDS) remains one of the most serious†public health issues confronting the Government at the start of the 21st century.
By next year there will be over 100,000 people living with HIV. Treatment costs now approach £1 billion a year.
Although antiretroviral drugs have dramatically cut the death toll there is still neither vaccine nor cure.
More than a quarter of those infected have not been diagnosed and are unaware of their condition. Better testing must be a priority, and testing on an "opt-out" basis for all new patients at GP surgeries and general medical admissions is recommended.
Spending on prevention is seriously inadequate: latest figures show that the Government spent only £2.9 million on national prevention programmes, compared with £762 million on treatment, despite the fact that preventing one infection avoids a lifetime of treatment, estimated to cost between £280,000 and £360,000.
Widespread public ignorance must be tackled and a new national campaign should be mounted to tackle the ignorance and misunderstanding which still exists in this area.
The teaching of issues related to HIV and AIDS in schools is inadequate, with one survey showing that a quarter of young people had not learnt about HIV and AIDS in the classroom.
The introduction of clean needle exchanges has been an outstanding success and has not led to any increase in criminality. The contribution of voluntary bodies should be recognised and every effort made to preserve their funding.
Find similar publications here: