Environment
Annual Statement of Emissions for 2010
Author:

Department of Energy & Climate Change

Publisher:

TSO (The Stationery Office)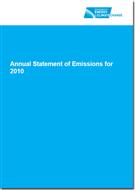 'Annual Statement of Emissions for 2010' is the third annual statement of emissions required under section 16 of the Climate Change Act 2008 (see below). It sets out steps taken to calculate the "net UK carbon account" in respect of 2010.
The net UK carbon account is compared against the carbon budgets to determine whether they are being met, and must not exceed the level of the carbon budget at the end of each budgetary period.
This statement shows that in 2010, UK emissions were 586.3 million tonnes of carbon dioxide-equivalent, a 3.2% increase on net UK emissions in 2009. However, this was offset by 1.3% worth of carbon units sold in 2010 by companies in the UK operating under the EU Emissions Trading System (EU ETS). Therefore the net UK carbon account was 23% below base year emissions.
The publication is divided into two parts:
Part 1: UK greenhouse gas emissions.

Part 2: The net UK carbon account.
Find similar publications here: