The European Union's Policy on Criminal Procedure
HL 288, Thirtieth Report of Session 2010-12
Author:

House of Lords - European Union Committee

Publisher:

TSO (The Stationery Office)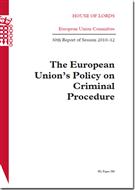 Increasing mobility within the EU will lead to more EU citizens in the criminal justice system of another Member State, either as defendants or victims. This is likely to involve dealing with the consequences of traumatic events in a foreign language in the context of a very different legal system.
Until recently the EU has done little to protect the rights of defendants and victims caught up in crime with a cross-border dimension. However the Lisbon Treaty has opened the way for this to be put right and two Roadmaps of planned legislation are now in place for defendants and for victims.
In this Report 'The European Union's Policy on Criminal Procedure (HL 288)' the Committee looks at the early Roadmap proposals and examines the potential benefit that they can possibly bring. Also examined is the disadvantage of potential disruption to diverse and sensitive national criminal law systems.
There is significant benefit to be gained from EU legislation setting minimum rights for defendants and victims, particularly for British citizens travelling within the EU. However, those minimum rights must be firmly grounded in the norms of international law, to minimise the risk of disrupting the UK criminal law systems.
Although the Commission is looking towards a more expansive EU criminal law policy the Committee considers that the Roadmap legislation should be put in place and its impact assessed before moving forward any further. It encourages the Government to take a positive approach in principle to exercising the UK opt-in to Roadmap legislation.
Find similar publications here: