National Health Service Landscape Review: Department of Health
HC 708, Report by the Comptroller and Auditor General, Session 2010-11
Author:

National Audit Office (NAO)

Publisher:

TSO (The Stationery Office)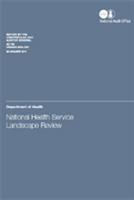 'National Health Service Landscape Review: Department of Health (HC 708)' summarizes the new arrangements for the National Health Service (NHS) proposed in 'Equity and Excellence: Liberating the NHS (Cm. 7881)'.
In that White Paper the Government proposed a number of reforms to the structure and operation of the NHS, which have since been refined and developed in 'Liberating the NHS: Legislative Framework and Next Steps (Cm. 7993)'.
The 'Health and Social Care Bill (HC 132)' is designed to create the necessary legislative change.
This review's purpose is to inform the Public Accounts Committee so that it can take stock of the proposals as they currently stand and discuss their implementation with the Department of Health (DH) and NHS.