Protecting the Public: Supporting the Police to Succeed
Cm. 7749
Author:

Home Office

Publisher:

TSO (The Stationery Office)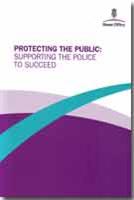 'Protecting the Public: Supporting the Police to Succeed (Cm 7749)' aims to build on reforms laid out in last year's Green Paper, 'From the Neighbourhood to the National: Policing our Communities Together (Cm. 7448)'. Over the next five years the increasing challenges faced by the police will need to be met within the context of a much tighter fiscal environment.
Reflecting this the reform agenda is based on four principles:
citizen focused;

national standards;

empowering professionals; and

value for money.
A key feature of the proposals being an aim of 'saving at least £70m per annum by 2013/14 through more effective deployment and more robust internal management of police overtime, and at least £75m per annum by 2013/14 by rationalising back-office support services'.
It is also proposed to use national procurement networks, including a standard 'beat car' for all forces and a single national uniform.
Find similar publications here: