Generic Risk Assessments - Department for Communities and Local Government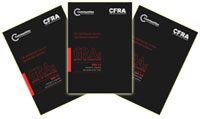 The Generic Risk Assessments (GRAs) from the Department for Communities and Local Government are the product of a 10 year consultation period. The GRAs in this series have been designed to safeguard emergency services personnel and members of the public.
All of the GRAs, both A4 loose-leaf and A5 bound versions, are available to order individually and as a standing order. Standing orders are available for both the loose-leaf and bound versions of the GRAs.
19219: Binder pack and A4 loose-leaf standing order

To enquire about standing orders email: subscriptions@tso.co.uk; fax: +44 (0)870 600 5533 or write to TSO, Standing Orders Dept, PO Box 29, Norwich, NR3 1GN.