Events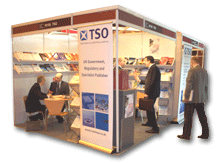 Why not come along to meet the TSO team? To find out when TSO is exhibiting at a trade fair or exhibition in your locality please check the details of forthcoming events regularly updated on this page.
Meet the Team

Ashley Dampier, Head of Sales and UK Wholesale/Retail Sales Manager. Ashley manages the sales team and has a thorough understanding of all portfolios that TSO publishes, with his main focus being the DSA titles. Ashley has worked within the publishing industry in the UK for 13 years.
Book a meeting




Dean Cooper, Best Management Practice Sales Manager - Dean is dedicated to the distribution of ITIL (IT Service Management) and P3RM (Project, Programme, Portfolio and Risk Management) publications worldwide. Dean has worked within publishing and international sales for over four years.
Book a meeting


Joe Walker, Export Sales Manager - Joe manages TSO's publication for sale to the export market, his main focus being the BP, MCA and BRC portfolios. Joe has worked within international sales for ten years and publishing for over two years.
Book a meeting


Clare Polley, Official and Library Channel Sales Manager - Clare manages Government customers; Public, and Academic Library customers as well at the Library Suppliers all trading with TSO for the supply of official materials. This year Clare is focusing on the electronic delivery of materials from TSO via the electronic library services of "Official Publications Online" (OPO). Clare will be showing the services of the online Library at the TSO stand.
Book a meeting

Forthcoming Events
TSO do not currently have plans to attend any forthcoming exhibitions.

Past Events
The London Book Fair, 16 to 18 April 2012 – Earls Court Exhibition Centre, London
The London Book Fair takes place every spring in the world's premier publishing and cultural capital. The Fair is a unique opportunity to take in the vibrant surroundings, listen to authors and explore new ideas shaping publishing for the future. The London Book Fair brings you direct access to customer, content and emerging markets.


The London Book Fair, 11 to 13 April 2011– Earls Court Exhibition Centre, London
The annual London Book Fair is the global marketplace for rights negotiation and the sale and distribution of content across print, audio, TV, film and digital channels. The Book Fair is a unique opportunity to explore, understand and capitalise on the innovations shaping the publishing world of the future.
2011's highlights included:
Russia market focus - showcasing Russian writers to a global publishing audience;
Digital Zone - featuring over 40 exhibitors from across the digital supply chain;
Children's Zone & Theatre - focussing on children's publishing; and
Lifetime Achievement Award - celebrating an individual's career dedication to reaching new heights in international publishing.
TSO attended The London Book Fair 2011 and would like to thank all who visited the TSO stand.. to find out more.
Frankfurt Book Fair 2010, 6 to 10 October 2010 – Congress Center of Messe Frankfurt
The Frankfurt Book Fair is the most important marketplace for books, media, rights and licences worldwide. In October each year, publishers, booksellers, agents, film producers or authors all come together and create something new.
TSO were amongst the exhibitors at the event. Acting as host to over 7,300 exhibitors from 100 countries, attracting 299,000 visitors and over 10,000 journalists, this is a meeting place for the industry's experts.
Almost 60 trade-fair years after its debut, the Frankfurt Book Fair has become the largest of its kind in the world and the hallmark for global activities in the field of culture.
Best Practice Showcase 2010, 24 June 2010 – Park Plaza Victoria London
TSO attended Best Practice Showcase 2010.
Best Practice Showcase 2010 included:
Round table discussion sessions, with over 80 different targeted topics to choose from.
Five different lively and interactive seminar sessions.
Over 15 of the UK's leading training organisations who will be available to take questions about your project management training requirements.
Top consultants working in project and programme management who can provide direct answers to your difficult questions.
Find out more at www.bestpracticeshowcase.com
The London Book Fair, 19, 20 & 21 April 2010 - Earls Court Exhibition Centre, London
TSO attended the London Book Fair 2010.
The London Book Fair takes place annually and is host to some 23,000 industry professionals. It provides a unique opportunity to explore innovations in the publishing world and to network and share knowledge with colleagues across the industry.
The Fair was a great success and the TSO team had a very productive few days. Thanks to all who came along to the TSO stand.