Events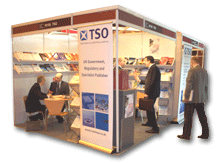 Why not come along to meet the TSO team? To find out when TSO is exhibiting at a trade fair or exhibition in your locality please check the details of forthcoming events regularly updated on this page.
Meet the Team

Ashley Dampier, Head of Sales and UK Wholesale/Retail Sales Manager. Ashley manages the sales team and has a thorough understanding of all portfolios that TSO publishes, with his main focus being the DSA titles. Ashley has worked within the publishing industry in the UK for 13 years.
Book a meeting



Joe Walker, Export Sales Manager - Joe manages TSO's publication for sale to the export market, his main focus being the BP, MCA and BRC portfolios. Joe has worked within international sales for ten years and publishing for over two years.
Book a meeting


Clare Polley, Official and Library Channel Sales Manager - Clare manages Government customers; Public, and Academic Library customers as well at the Library Suppliers all trading with TSO for the supply of official materials. This year Clare is focusing on the electronic delivery of materials from TSO via the electronic library services of "Official Publications Online" (OPO). Clare will be showing the services of the online Library at the TSO stand.
Book a meeting

Forthcoming Events
TSO do not currently have plans to attend any forthcoming exhibitions.