Health Committee
Display:
Annual Accountability Hearing with the Care Quality Commission
HC 1430, Ninth Report of Session 2010-12 - Report, Together with Formal Minutes, Oral and Written Evidence
Author:

House of Commons - Health Committee

Publisher:

TSO (The Stationery Office)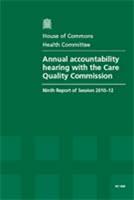 Following its annual review of the work of the Care Quality Commission (CQC), the Health Committee reports in 'Annual Accountability Hearing with the Care Quality Commission (HC 1430)' that the bias of the work in the CQC away from its core function of inspection and towards the essentially administrative task of registration, represents a significant distortion of priorities.
The Committee reports that:
the CQC was established without sufficiently clear and realistic definition of its priorities and objectives;

the timescales and resource implications of the functions of the CQC were not properly analysed;

the registration process itself was not properly tested and proven before it was rolled out; and

the CQC failed to draw the implications of these failures adequately to the attention of ministers, Parliament and the public.
Consequently, the Committee welcomes the government's decision to postpone registration of GP practices, and recommends that proper planning, including piloting of the model for registration should be undertaken before the revised date of April 2013 is confirmed.
The Committee also welcomes recent announcements that the CQC intends to undertake annual visits of all National Health Service (NHS) and social care providers. It goes on to stress the importance of the role of inspectors in assessing the culture in care providers, especially concerning the obligation which rests on all healthcare professionals to raise concerns if they recognise, or ought to have recognised, evidence of failure of professional standards. Each provider organisation should recognise and respect this professional obligation and provide proper security to those professional staff who discharge it effectively.

Find similar publications here: